Buying Advice: Food Processors
The food processor has become an essential appliance for most home kitchens. This device decreases food preparation time and makes cooking easier. Food processors come in a variety of sizes and their general purpose is to quickly chop, mince, grind, slice, shred, knead, mix, puree, or emulsify soft and hard food ingredients. Which food processor will best fit your needs and budget can easily be determined once you have a better understanding of how to differentiate between models.

What to Know Before You Buy
Functionality
A food processor's functionality can be determined by considering its capacity, feeder tubes, attachments, control panel, and safety features. First, its work bowl capacity indicates the amount of dry ingredients it can hold and will range from as little as two cups to upwards of sixteen cups for large home models. Assume that the liquid capacity of the machine will always be at least 50% less than the dry capacity. In general, it is best to choose a food processor with a higher capacity than you think you need. Often, manufacturers inflate capacity claims by one or two cups. You should also take into consideration the amount of countertop/storage space you have in your kitchen since processors with a higher work bowl capacity tend to be larger.
How you plan on using your food processor will dictate how much capacity you need. If you are typically cooking for a group, or like to make pizza dough from scratch, you'll probably want a full-size food processor with a capacity of at least 11 cups. Otherwise, a mid-size appliance with a capacity between 7 and 9 cups should be sufficient (and more affordable) for most home kitchens. A higher capacity food processor is heavier, more stable, and capable of handling bigger jobs. Some large capacity food processors will actually include a smaller work bowl and blade to add to the range and capability of the machine.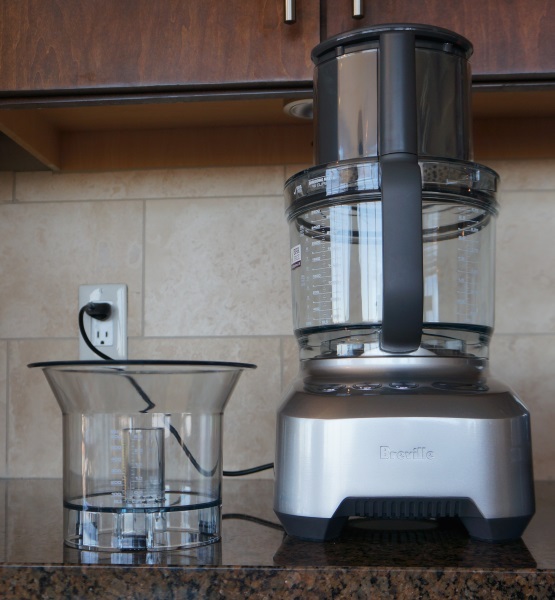 Feeder tubes on the lid of the work bowl are a helpful feature because they allow you to safely add ingredients to the food processor while it is running. The size and shape of the feeder tube(s) is important to evaluate since it can have an impact on your use of the machine. If the chute is too large, food won't be in the correct position for the blade to make the cuts you desire. If the chute is too small, you might end up having to trim ingredients extensively. Both potential scenarios could end up defeating the purpose of your food processor. Some food processors are equipped with two feeder tubes, a small one and a large one, which can help to alleviate the issue. The smaller tube is great for adding liquids or processing narrow food items (ex. carrots or celery), while the larger tube should be able to accommodate whole pieces of fruit or vegetables.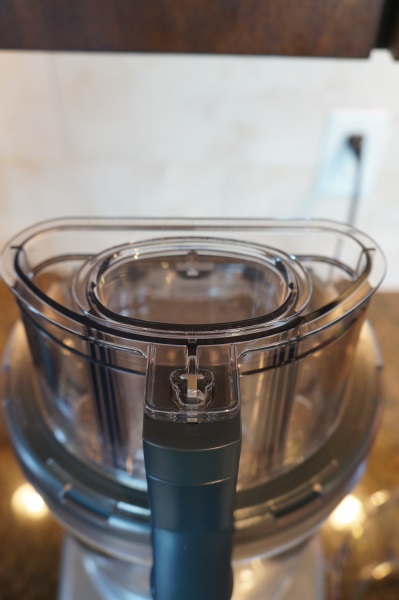 In terms of attachments, most mid- to full-size food processors come with a stainless steel S-shaped blade for chopping, and discs for slicing and shredding. Occasionally, manufacturers will include extra attachments like a plastic dough blade, adjustable slicing disc, whipping/emulsifying disc, julienne disc, or French fry disc. While things like a reversible shredding disc and adjustable slicing disc enhance the versatility of your machine without taking up additional space, other attachments can be somewhat unnecessary and will drive up the overall cost of the machine. When purchasing a food processor, you are better off starting with the basic attachments and purchasing additional attachments once you've had some time to see whether you actually need them.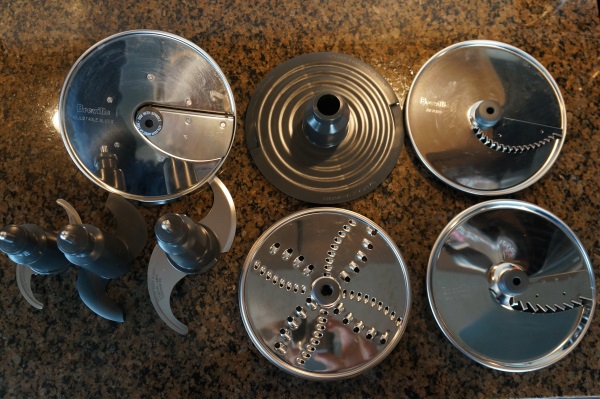 Most food processors have either paddle switches or a touchpad control system. Some people prefer the feel of paddle switches, while others like the smooth touchpad since it is easier to clean. The control buttons you will most likely see are simply: On, Off and Pulse. Almost all processors have the ability to process food continuously or in short bursts ("Pulse") to allow for more precise processing. While some models may offer an array of speeds (like a setting for dough), they don't necessarily do a better job, and continuous and pulse processing settings are really the only ones you need.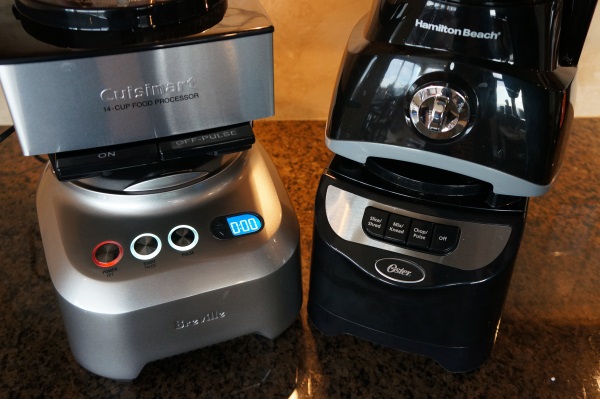 A safety locking system is standard on most food processors. This feature will prevent the machine from starting until the bowl, lid, and pusher (if applicable) are locked into place. Other safety features to look for include a heavy base with slip-resistant rubber stoppers underneath it because the food processor will be less likely to jump around on your countertop, especially during heavier jobs. Finally, for machines that come with multiple blades, you should be sure to have a specially designed storage case to keep them secure while they are not in use.
Processing Quality
Consider the power and efficiency of the food processor's motor as it is critical that the machine can handle the jobs you want it to. For mid- and full-size food processors, you ideally want a motor that is at least 600 watts; otherwise it may not chop very well or, even worse, the motor could burn out. If you foresee using the machine to make lots of dough, you should probably consider an even higher-powered motor. While most manufacturers will advertise the wattage of the food processer's motor, the motor's efficiency is equally (if not more) important. Unfortunately, this is impossible to determine just by looking at the unit. The best factor to take into account is the manufacturer's reputation.
Ease of Set-Up and Clean-Up
Sometimes it is hard to know if food processors are easy to handle, assemble, disassemble, and clean. But, you can get a sense for the ease of set-up and clean-up by reading online reviews. You want a model that you feel good about pulling out, not one that you think is a hassle every time you use it. Also, again, consider what you want to do with your food processor. Cleanup tasks are often more difficult with dough, dairy, and nut butters. If you are looking primarily for slicing, chopping, and mixing functions, ease of clean up may not be quite as important. Almost all food processors have dishwasher safe parts, but keep in mind that a dishwasher's high temperature will have a negative effect on plastic parts and blades over time. Lastly, it is always a good idea to read the user's manual before using your machine.
Storage Options
Storage is a simple, but important category to consider. Often, the more affordable food processors do not come with blade storage. If you have kids, or cluttered cupboards, this can be problematic to keep everything contained and safe. In some units, attachments can stow away inside the work bowl which is a nice, compact system. Beyond blade storage, some features to consider include the footprint (size) of the unit, how heavy it is to move on and off your counter, and if it has retractable or other cord storage. Knowing these features ahead of time will help you to make a good choice for storage before you purchase the machine.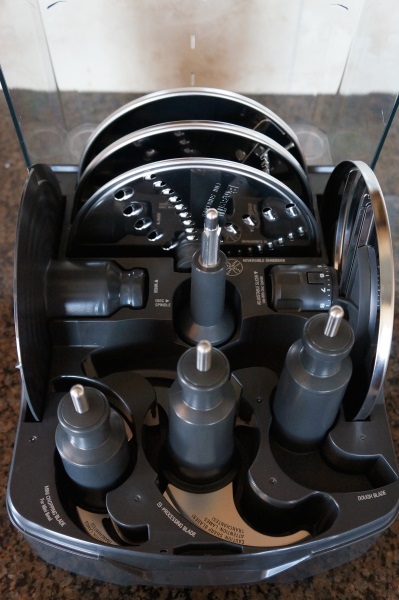 Value
In general, pricing will vary greatly depending on things like the manufacturer, the size of the food processor, the motor, the number of attachments, etc. Ranging from $90-$140, mid-size food processors are typically more affordable than larger capacity machines. Full-size food processors can cost as much as $1,200, but most models cost between $70 and $400, and you can get a good machine in the $80 to $200 price range. Make sure to note the warranty that accompanies your purchase as they can stretch from 1 to 25 years and often speak to the durability of the machine and the reputation of the company.
Conclusion
Once you have determined the capacity and power you will need, you should be able to narrow down your search to a few different models with the features that you want. Manufacturers like Cuisinart and KitchenAid are leaders in this industry since their products typically receive the best feedback from test kitchens and customers alike. Their food processors will tend to be more on the expensive side, while companies like Hamilton Beach and Oster offer some more budget-friendly machines that still perform well. Finally, a small thing to consider before buying a food processor is whether the plastic parts and attachments are BPA-free and dishwasher-safe. While you may opt to hand wash everything to protect the integrity of the plastic and blade edges, it is still convenient to know you can toss them into the dishwasher if necessary.