Selecting the Right Product

Types of Coffee Makers
There are several types of coffee makers available. In this round of tests, we focused on automatic drip brewers. We did not include single serve machines, espresso makers, or other specialty brewers. Each machine we tested required different levels of involvement from the user. Some machines featured manual operation, like the Technivorm Moccamaster, while others like the Cuisinart Burr Grind & Brew can be programmed to grind, measure, and brew a pot of coffee while you sleep. It often comes down to convenience and personal preference, not to mention your budget.
Criteria For Evaluation
Brewing Quality
The major brewing factors that we assessed were based on the SCAA guidelines for optimal brewing parameters. The SCAA recommends a brew temperature of between 195°- 205°F. In terms of brewing time, it is recommended that grounds are exposed to water for more than 4 minutes but less than 8 minutes. For each machine, we measured the brewing temperature and time to ascertain which machines conformed to the optimal specifications. To finish our testing, we let the carafe sit and measured the temperature periodically to gauge the heat retention of each carafe.
As expected, our four SCAA certified brewers met the recommended specifications. These machines included the Technivorm Moccamaster, the Bonavita BV1900TS, the OXO On Barista Brain, and the KitchenAid Pour Over Coffee Maker. We were surprised that some other brewers, including the Mr. Coffee Optimal Brew and the Ninja Coffee Bar, also met the SCAA's criteria. In terms of temperature retention, we were really impressed with the Mr. Coffee's thermal carafe. It only lost 8°F over the course of an hour, which was significantly better than any other machine we tested.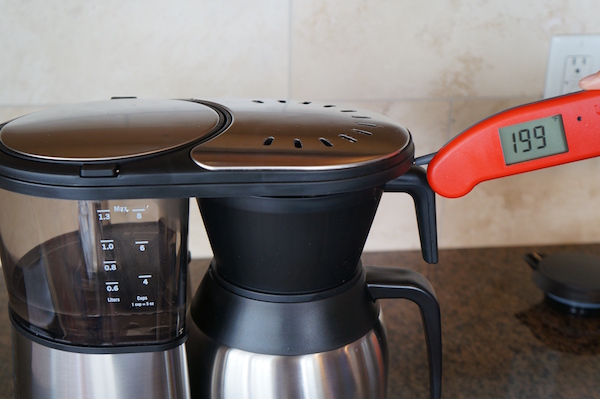 Taste Test Results
Using our 10 machines, we conducted a blind taste test with 31 coffee drinkers and asked them to rate samples of black coffee on overall taste, flavor, body, acidity, and color. We used the same Intelligensia medium roast coffee for all of our testing. For more information on our blind taste test, please visit How We Test.
The winner of the taste test was the Technivorm Moccamaster, with the Bonavita a close second. In order of rank, the rest of the machines came in as follows: the OXO, KitchenAid, Mr. Coffee, Ninja, BUNN, Cuisinart Burr & Grind, Kenmore, and Cuisinart 14-Cup.
Design Quality
For each coffee maker we tested, we evaluated the quality of its construction materials and its overall feel. Did it feel like it would last a long time? Or did it feel flimsy and cheap? We also took into consideration how well the carafe poured and its design. In general, we prefer thermal carafes to glass ones because they retain temperature better and don't require a warming plate. Some warming plates are designed well, like the adjustable system on the Cuisinart 14-Cup, but others actually "cook" the coffee over time, negatively impacting the flavor. For example, the Kenmore's warming plate heated the coffee an additional 6°F an hour after brewing.
We thought many of the machines we tested were well designed and manufactured, but the Bonavita stood out as a winner in this category. The BUNN Velocity Brew performed poorly because it felt cheap and flimsy, particularly the design of the glass carafe.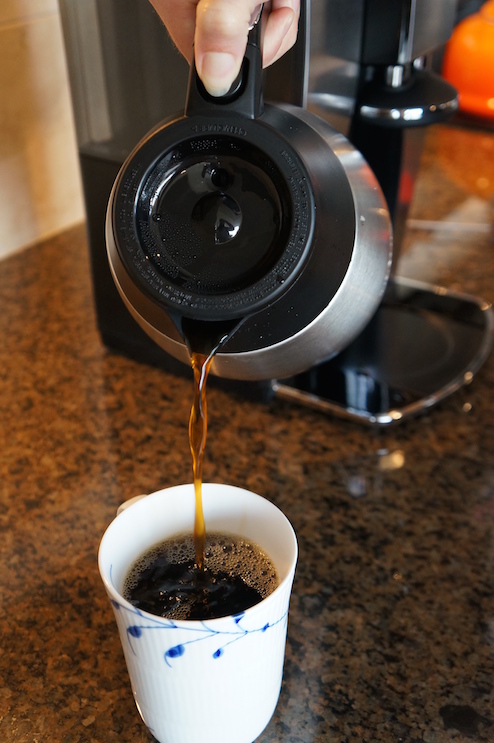 Ease of Set Up and Clean Up
Over the course of our testing, we set up and cleaned these machines numerous times. The majority were very straightforward to assemble. Some machines, like the Technivorm Moccamaster, have several parts to put together but are still relatively intuitive. We only had to reference the user's manual to set up the BUNN, but otherwise we didn't have any issues getting started. We cleaned all the machines by hand and some were easier than others. The Cuisinart Burr Grind & Brew was one of the more challenging to clean because of the grinder, while a machine like the Kenmore was pretty easy. In general, we found that glass carafes tended to be easier to clean than thermal ones because they usually have larger openings. The machine that we thought was the easiest to set up and clean up was the Bonavita.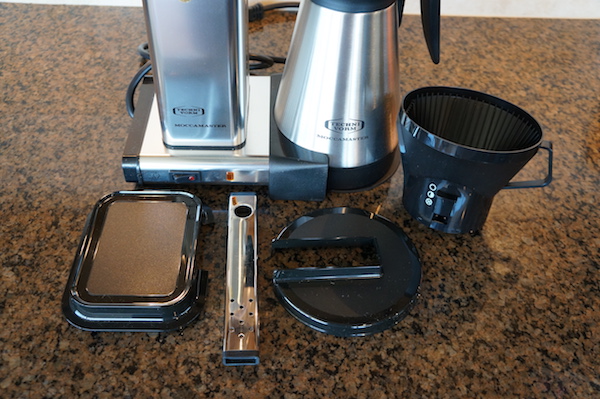 Bonus Features
Bonus features often come down to personal preference, but we still thought they were important to consider. Common bells and whistles on an automatic drip brewer can include brew delay, strength options, brew stop, indicator tones, freshness timer, automatic off, cleaning alerts, etc. Other convenient features include a removable water tank, built-in water filter, reusable filter, and brew-through lid with internal mixing tube.
The most programmable machines in our test were the Cuisinart 14-Cup and the Cuisinart Burr Grind & Brew. The programmable brewer with the highest rated coffee was the OXO On Barista Brain, but the Mr. Coffee also performed well for less money. However, we found that the very best tasting coffee came from simple, not programmable machines.
Our Award Winners
The Technivorm Moccamaster - Overall Award Winner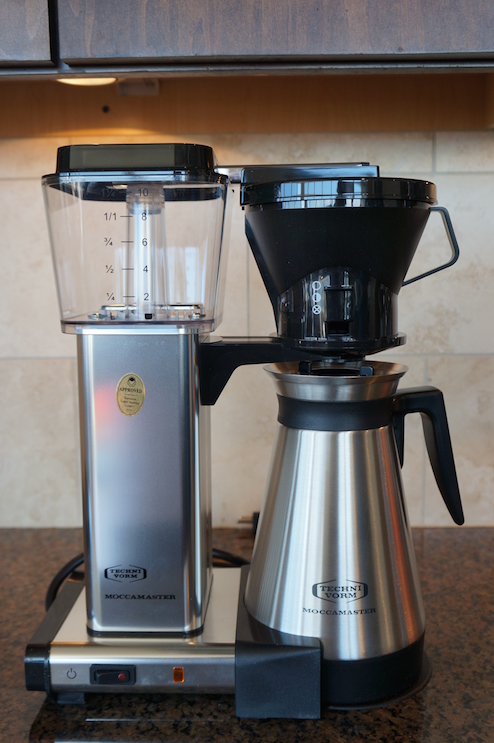 The Technivorm Moccamaster KBGT 741 is our Overall Award Winner. We verified that it brews at the optimal time and temperature, and it is an SCAA Certified Home Brewer, which also indicates excellent quality. Not only did this machine win our blind taste test, but we felt that the brewer was made out of choice material and was straightforward to set up and clean up. Although it is an expensive machine, we think the 5-year warranty goes a long way in speaking to the workmanship and the value of the Moccamaster.
The Bonavita BV1900TS - Editor's Choice Award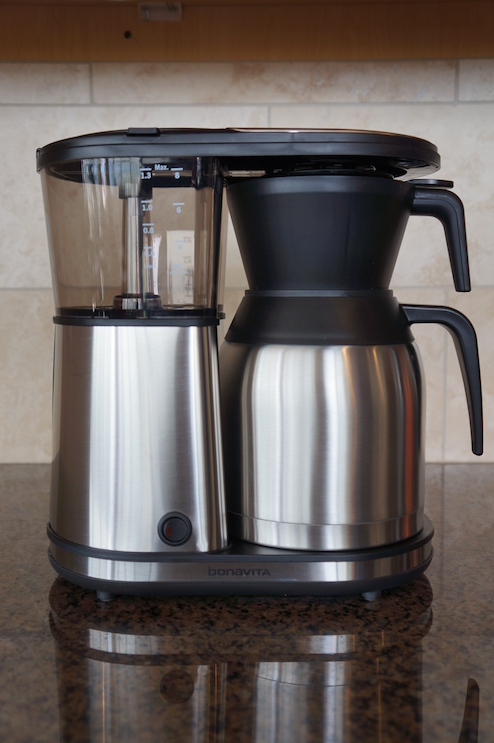 The Bonavita BV1900TS won our Editor's Choice Award because it came in second in our blind taste test, and costs $150 less than our Overall Award Winner, the Moccamaster. The Bonavita is also a manual, SCAA certified home brewer that offers ideal brewing time and temperature. We felt it was made of high quality material and delivered an excellent cup of coffee. It is a good value if you are looking for the very best coffee but can't spend over $300 on a brewer. In addition, we loved that the thermal carafe had a wide mouth and we could fit our whole hand into it for cleaning.
Mr. Coffee® Optimal Brew™ 10-Cup Programmable Coffee Maker - Best Buy Award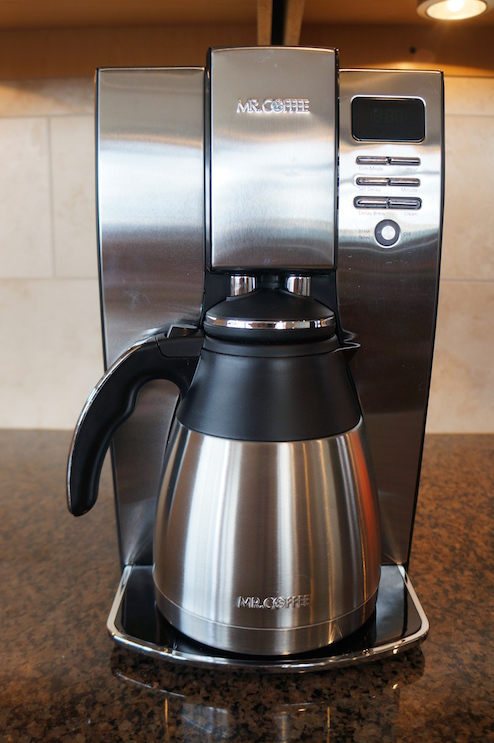 Mr. Coffee® Optimal Brew™ is our Best Buy Award Winner. It ranked 4th in our taste test, and can be purchased for around $70. It delivers optimal brewing time and temperature, and features a thermal carafe system. In addition, it is programmable if you like to wake up to fresh coffee. Overall, we felt like you are getting excellent value with this Mr. Coffee model, and we were really impressed with the quality of the coffee. In fact, the coffee flavor was competitive with SCAA certified brewers.